How often do you have the opportunity to ask someone anything you want? On Wednesday night, Redditors gathered around their computer screens to ask JRNL Founder Nick Jones their burning questions on business, investing, and of course, JRNL.
Here are a few highlights:
Q: Why were you interested in JRNL?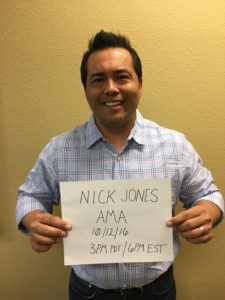 Nick: Journaling is something I am passionate about. There's so much content being created by people, but most of it goes unchecked or loses it's meaning because of the sheer quantity of content being generated. I wanted something that focused on meaningful content. When researching the idea I saw that a lot of people were trying to solve the problem and I felt like my team could do a better job than what currently exists in the market. We launched about a year ago and have nearly 100K users and we finished the BoomStartup accelerator in SLC in July of this year and successfully raised $750K. It was encouraging to get validation from other investors.
Q: Any advice for someone who is doing well in their career but has the itch to become self-employed? How do we decide whether to take the leap when it may mean losing a cozy salary and benefits?
Nick: I've been in that exact position before as a single adult and again married with children. The salary (and paid vacation) and benefits are usually the biggest hurdles in making the decision. I think it really depends on your desire to try something different and if you feel like the risk is worth it. When I was single I knew that I only had to take care of myself so I was willing to roll the dice at the drop of a hat. Now that I'm married, I had long discussions with my wife and made sure she knew what we were getting into because I needed her support in order to be successful. Ultimately, you have to weigh the risk, but also understand your own personality and desires. If you want to prove yourself or feel like you could do better on your own, you have to know that sacrifice is required. Vacation is something different as a sole proprietor. You will likely think about work during your waking hours and it's difficult to "turn it off" at the end of the day because there's always work to be done. You need to know what you're getting into before taking the leap. For most entrepreneurs, it's truly an itch you have to scratch. For business people (sales people) it's a complete confidence in themselves that they can win. You have to know that about yourself before quitting your day job.
Q: When will JRNL have its own Android app? What's your morning routine like? When and how do you journal?
Nick: We are definitely focused on getting an Android app into the market. There's been a lot of demand for it, for sure, and our users have voiced it with our support team loud and clear. 🙂 I know that we hope to have something in place, but I do not have an exact ETA. It is high on our priority list.
My morning routine these days consists of getting up early and trying to exercise. Because I tend to journal using share extensions in iOS from the Photo Gallery/Camera Roll, I regularly use Siri to quickly record journal entries while on the treadmill or biking. That's not normal, but effective for me.
I tend to journal when inspiration strikes from a mobile device, but my most thought out entries occur on Sundays when I have time to reflect about the week and put my thoughts down using my laptop. I type fast and I think that method allows me to reflect and properly verbalize my feelings and thoughts.
I try to share my entries with my wife because she often remembers other details or has other insights that I think my children will appreciate later in life.
Want more? Click here to read the full AMA on Reddit. If you have a question for Nick, leave it in the comments section below and I'll make sure he answers it.