JRNL Blog
It's no surprise that this month is Valentine's Day. Perhaps you're planning a dinner date with your spouse or a fun evening with your gal pals (aka Galentine's Day). Whichever way you're planning to celebrate, be sure to take a few minutes and write about what love means to you. You might learn something new about yourself.
We started  14 Days of Love Prompts on our social media channels to lead up to the big day. Be sure to follow us on Instagram, Facebook, and/or Twitter so that you can receive a daily dose of journal conversation.
Here's a full list of the love prompts we picked for this year. …Keep Reading
How do you start to make journaling a daily habit? You've got to dive in. Keeping a journal is a fantastic way to record daily events, reflect on personal emotions, and practice mindfulness. However, many people struggle with keeping a journal on a long-term basis. That's why we've come up with three great strategies to help you stick with your journaling goals.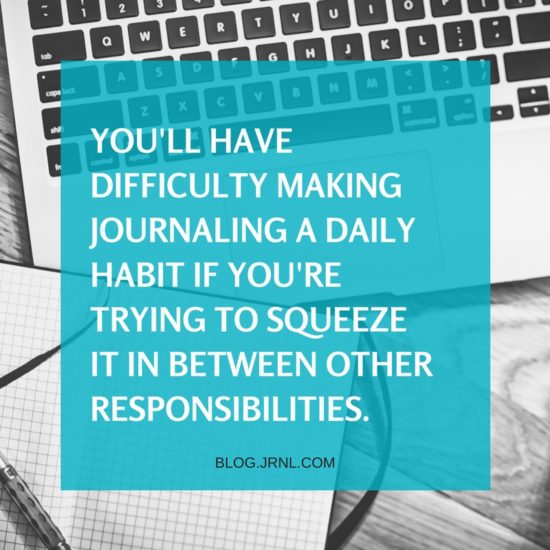 1. Make it enjoyable.
You're much more likely to keep up with a habit if you enjoy the activity. Journaling can be highly gratifying, as it provides an opportunity to look back on the best parts of your day. On some days it will be easy to identify the high points, such as the day you get promoted, go on vacation, or adopt a new pet. Everyone has bad days, however, and it may be difficult at times to find a good part of the day. Journaling can help you get through those bad days by finding the happy moments, no matter how small.
2. Remind yourself to write.
One strategy for journaling on a daily basis is to set a clear reminder. One way to do this is to set a reminder on your phone for the time you plan to write in your journal, perhaps ten minutes before you go to bed. Another way to remind yourself is to place your journal on your bed after you make it in the morning or on your nightstand so that you'll see it later in the day.
3. Schedule a regular time for it.
You'll have trouble making journaling a daily habit if you're trying to squeeze it in between other responsibilities. To fit journaling in with your schedule, you'll have to make time for it. This may mean spending less time on social media, cutting time out of your existing night-time or morning routine, or possibly adding time to your routine. Journaling doesn't have to be a major time commitment; 5-10 minutes a day can be enough time to write a journal entry.
One of my goals for this year is to write 1,000 words per day. I write at night and journaling kicks off my nighttime routine. I haven't been able to get to 1,000 words yet, but I'll get there! I really want to be able to print my JRNL book at the end of this year and have a daily account of everything I've done and the people I've spent time with.
Journaling is a fantastic habit to have for people of all ages. It allows you to reflect each night on the past day and have a clean slate for the day ahead. With the tips listed above, you can make it a consistent and highly satisfying habit.
Did you like this article? You'll love these:
Creative writing is a fantastic way to escape reality for a moment and let your imagination run wild. I find it difficult to know where to start with a fun story and that's when I use a writing prompt to ignite my flow. There's a writing prompt sub-group on Reddit where individuals from around the world can post a prompt or reply to one with a short story of their own. If you dream of being a published author someday, you might want to consider posting publically so that others can read your writing and provide feedback. It's a good way to see resonates with people and test out your writing style.
If you're more of a private creative, browse the prompts and respond to it in your private JRNL. (Remember, you can keep a separate journal for your creative writing vs. a daily journal for your day's events.) The Reddit prompts are meant to inspire new writing and inspire they do! Occasionally one of them will capture my attention and before I know it, I'll be sucked into reading all the short stories that go along with it. Here are a few that I enjoyed. …Keep Reading
Being creative is something that comes naturally to some people, while others have to work a little harder at it. Creativity can benefit many areas of your life. It can help you at home when you need come up with meals to serve week after week. It can also help you at work by helping you to problem solve and be more productive. Here are five ways you can begin to stimulate your creativity. …Keep Reading
Welcoming the new year usually comes hand-in-hand with the creation of resolutions or goals. Have you put some thought into what you'd like to achieve in 2018? There are a few tricks to setting goals that are worth reaching. Here are a few tips. …Keep Reading
The holidays are generally a great time of year. But for those suffering from stress or anxiety, the holidays can bring tension and bad moods. Here are some simple tips on how to handle common stressors around the holiday season. …Keep Reading
December is a busy month. Sometimes it can be difficult to know what to write in your journal purely because there is so much to express. That's where journal prompts come into play. Our friend, Michelle Garrett, over at divas with a purpose recently posted a blog that contains 31 journal prompts for the month of December. That's one for each day of the month!
The extra bonus? They're family-friendly. So, you and your kindergartener or high-schooler can have writing time together. We just love family activities. …Keep Reading
This post was written by Brittany Klancar, a sales and marketing expert who works hard and plays hard. Brittany loves to learn and experience new things. She's always keeping busy – whether it's hiking with her husband or cuddling with her cat.
Gym, work, groceries, pick up the kids, soccer practice, dinner, clean, sleep, repeat. Although maybe at different extents, we've all experienced this at some point or another. Sometimes the normal day-to-day tasks and activities can be overwhelming, and after a period of time, they can cause us to feel completely burnt out. With things such as Self Care Awareness Month (September) and International Self Care Day (July), it's proof that sometimes we need a reminder of how important it is to take care of ourselves. After a long and busy week, ensuring you set aside 'down time' will help to increase your productivity, energy, and happiness. Below are 5 ways to help de-stress your body and mind after a long week. …Keep Reading
We hope you had a wonderful Thanksgiving! I should have posted this article before the main holiday where you expect to stuff your face. But I wasn't thinking about it until I opened the fridge and saw there's still half of a cheesecake in there. Eating leftovers from a big meal can mean that our cheat day has turned into a cheat week. Try implementing these habits in order to avoid holiday weight gain. …Keep Reading
While many of us will gather around a table full of family and food for Thanksgiving, it's important to keep in mind that not everyone is as fortunate. Everything from the food we're eating to the music we're listening to is a blessing. Instead of one day of thanks or listing everything we're thankful for, we've created seven gratitude challenges that include writing prompts. This will help extend that feeling of appreciation throughout the whole week. Your mission, should you choose to accept it, is to seek a long-lasting attitude of gratitude. …Keep Reading