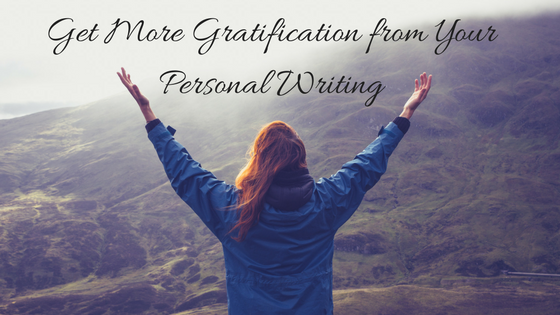 Journals can be great tools for unleashing creativity, freeing the mind, and discovering more about yourself. But to get the most out of yourpersonal writing routine, you need to overcome a few obstacles, like knowing when to write and how to avoid ranting. The good news is, with patience, practice, and a little know-how, you can jump the hurdles of journaling and make it a habit that brings profound joy and rewards.
Here are six ways to get more gratification from your personal writing, and boost your happiness in the process:
Be picky about your journal. Journals come in all sorts and styles, so don't just pick up the first journal you see. Instead, find a journal that suits your purpose, personality, and needs, so you'll want to write in it often. Look for pages that are printed the way you like them, blank or with lines. If a digital journal is more convenient, focus on those options.
Keep it open-ended. Writing in a journal is probably the most open-ended activity out there. There are no rules, no guidelines, and no one looking over your shoulder. Keep it that way. It'll help you avoid writer's block since you can write about virtually anything in any genre using any style and number of words. Poems, lyrics, essays, anecdotes, sentence-long thoughts or even a whole story are fitting for a journal. When it comes to journaling, the sky's the limit!
Don't be afraid. Writing is a highly personal process and one that can take courage and boldness, even if you don't plan to share your journal entries. But remember what a journal represents: a safe place where you can write about anything. Don't be afraid to dig deep into your soul. Your journal should inspire you to let go of inhibitions and write with confidence. You'll not only feel liberated; you'll learn more about yourself than you ever knew.
Think humbly. Of course, it's easy to want to vent in a journal, but before you start ranting, stop to think about the reality of what you're about to write. Be honest and humble, and you'll be surprised at how much clearer–and more gratifying–the journaling process is. That doesn't mean you can't write about things that make you unhappy. Just don't place blame; instead, focus on the life lessons you've learned from your experiences.
Write when the moment strikes. Scheduling a time to write in your journal can keep you committed to the task, but if you feel pressured to write when you're not in the mood, you could end up journaling about something you don't really care about just to get it done. You'll feel more gratified if you write when something worth writing about pops into your mind. Carry your journal with you so you'll be ready whenever that moment strikes–even if you only have time to jot down a few words.
Share your writing. Although journals are primarily for the writer's benefit only, you may discover that sharing your writing with others has a positive effect on them as well as you. You may even decide that one of your best journal entries is worth a larger audience. Consider submitting it to a magazine or website. Many professional writers create some of their best-published pieces from a journal entry. You never know, you might too.
When you take journaling to heart, it can be deeply gratifying. Follow the above tips, and experience the joy that comes from tapping into your innermost self and discovering what really matters to you.