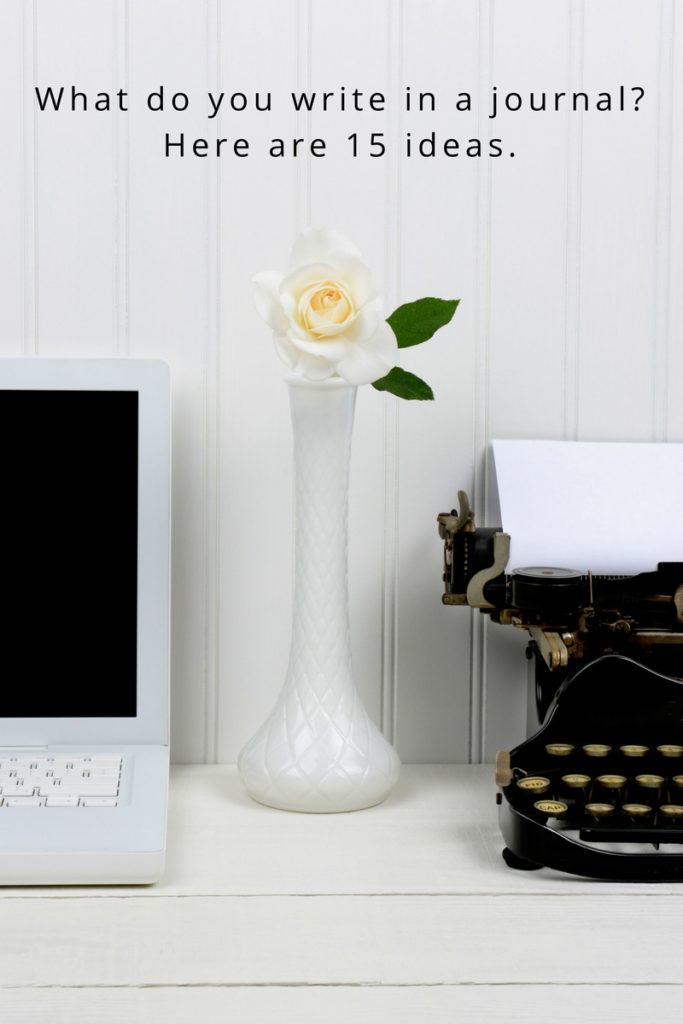 Choosing what to write in a journal starts with understanding why you're writing. It might seem like nothing special or important happened in the past 24 hours that you would want to share with anyone, even the future you. But writing in a journal isn't only for preserving stories for future generations, it's therapeutic for you. Use daily journal writing to better understand yourself, others, improve your memory, set goals and report on progress, or express your feelings about your family. There are a number of reasons to keep a journal. Here's what you can write in it.
Stories from the past. They don't even need to be from the last 24 hours. Have you been reminiscing?
Things your kids have done. They grow up so fast. Did they do something funny, say something wise beyond their years?
Career challenges. Maybe they're too complex for a spouse, friend or family member to understand and advise. Writing it down will help you gain clarity.
Career goals. Where do you hope to be in 5 years? What skills do you need to get there? Writing down your goals and your plan to achieve them means your more likely to succeed.
News. What's happening in today's world and what are your interpretations of the events? Remember that JRNL co-founder Steve Reed read his grandfather's journal and saw that his grandfather wrote an entry when he heard that President Lincoln was going to Ford's Theater that night and an entry the next day with the sad news. Hindsight is 20/20 and you'll never have another chance to write down exactly what you know in this moment.
Politics. Eek. We all are tired of politics, right? But writing your opinion on current regulations or issues will help you better understand your reasons for feeling a certain way. Plus, you'll be better at explaining your rationale to someone else.
Events. A beautiful wedding, a first-birthday celebration. You have your own interpretation of events that deserves some attention. You'll appreciate having a record of your thoughts from that day and you might be surprised that your memory ends up contrasting with what you wrote.
Visiting friends/family. Something I realized lately is that I've forgotten a lot of the details of what I did in college. (And it's not because I partied too much!) I wish that I had kept a journal so that I could look back on when friends visited me, what we did while they were here, and who else was there with us.
Yourself. It sounds too simple, but how are you doing? Recognizing that you haven't been eating well or sleeping well can help you take the steps to improve.
Your routine. Maybe you think it's too boring, however, your routine will change over time. It might be interesting to look back and reflect on "how you did it" a few years ago versus now. Also, writing it down can help you stick to a routine if you tend to have trouble doing something every day. (For example, writing in a journal.)
Health strangeness. Maybe your stomach has been hurting lately and you can't pinpoint the reason for it. Write down what you've eaten, when it hurts, and for how long. This sort of information will be extremely helpful when you go to the doctor with your case.
Potential lawsuits. Having a few fights with your neighbor? If you feel like your neighbor might take it to court (or you might have to), then document everything.
HR Complaints. The same guidance goes for issues in the workplace. If you're having a disagreement with a colleague or your boss, make sure you write down everything that occurred. Make sure you include all of the facts. The feelings about the incident would be more for your benefit than it would for a formal HR complaint.
What you've learned. They say you should learn something new every day. What did you learn today?
Quotes that inspire you. The wisdom from other folks is sometimes just what we need to get through a rough day or emphasize a behavior that we want to accomplish. Bible verses are definitely appropriate!
A journal is whatever you want it to be. Your goals for keeping a journal might change or you might have a few different ones. Regardless, it's your journal and you can write what you want to.
What do you write about in your journal? Any advice for others who are trying to get into the daily journal writing habit? Leave a comment with your wisdom and help others.