JRNL is pleased to announce their newest feature: Share Extensions. Share Extensions works in conjunction with the iOS app, and allows users to create quick journal entries, seamlessly. To utilize this feature, users must download the latest version of the iOS app, found in the app store, here: https://itunes.apple.com/us/app/jrnl.com/id1036338627?mt=8
To create an entry through share extensions, you will need to open your camera roll, press select in the upper right hand corner, and choose which photos to include in your entry. Once you've selected which photos you want to share to your JRNL, press the share icon.

Clicking this icon will open up share options. You will need to turn on your share extension to JRNL. To do this, slide the list of icons from right to left until you see the "More" option.
Selecting "More" will bring up a screen that shows all the apps on your phone that have the ability to 'share to'. You'll want to scroll to JRNL, and then toggle it on. You will know it is toggled on, when half of it is green. Once it is on, select "Done." **Please note: once you've turned the JRNL app on, it will remain available unless you turn it off.
This will take you back to your share screen, where you will need to select the JRNL app icon.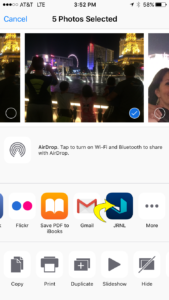 Selecting the app icon will allow you to create an entry for your JRNL account. When the small post screen opens, you can add as much text as you desire, and it will show you how many photos you selected to upload. **Please note: text added will appear at the top of your entry, and the photos selected will appear below.
You can also select which Journal you would like your entry to appear in. To choose your Journal, select the line where the Journal is listed. Once you select that line, it will open a smaller window that shows you the list of your Journals in your account. From here, you can select which Journal you would like your entry to appear in.
If you don't want your entry to appear 'today', you can also change the date associated with your entry from this screen. Selecting the date line will open a small window with a date picker. You can choose the month, day and year your entry will appear on in your JRNL account. Once you have the date for your entry selected, press the blue select button. This will take you back to your share window.
Once you've confirmed that your entry appears how you would like, press post.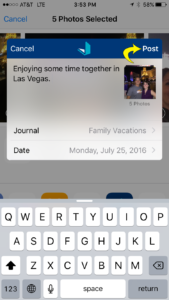 Pressing post will give you a screen showing you that your photos are being shared. Once it has posted to your JRNL account you will be shown a window saying it was successful. Press ok to close the screen. **Please note: you will have to cancel out of your selections. This will not undo your share to JRNL.
You can now go to the JRNL app, and you will see your entries in your timeline. To access your timeline, you will click on your name from your Dash screen.
If you chose "Today" as your entry date, it will appear at the top of your screen. If you chose a date in the past, you will need to navigate to that date to see your entry.
To take advantage of Share Extensions and all the other features JRNL has to offer, sign up for a free JRNL account at JRNL.com